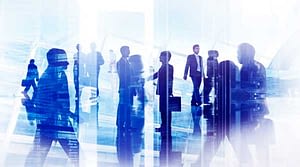 Networking – the mere thought of it can make some of us break out in a sweat.  It  is often thought of as the domain of the extrovert – the social butterfly who flits around the room making friends with everyone.  What about the introverts who would rather stay home than attend a function to "press the flesh"?  Well, the fact is that networking is all about making connections.  And, connecting with people means listening, finding some commonality and a reason to get back in touch. Rather than thinking you have to meet a roomful of people and collect 20 business cards, why not really connect with a handful of people.  The results are likely to be even better.  Don't think networking, think connecting. So, how do you make great connections with people?
Firstly, show up.  I've been to functions, gatherings, meetings, breakfasts, you name it.  When the weather is bad there are always people who don't show up.  Show up – you never know who you might meet (and they are likely to be a "stayer" like you, so you already have something in common.)
Smile, say hello and introduce yourself. Shake hands warmly (no dead fish, knuckle crunchers or holding ends of fingers!).
Have something to ask and something to say.  It's really important to be a good listener.  Networking gurus often took this to extremes, advising that you should show interest in the person you are meeting by asking lots of questions.  As people (supposedly) love talking about themselves, they will prattle on, you will be very interested in all they have to say, and thus you will have a good contact.
Only problem is, if you are talking to a narcissist (and let's face it, they love having someone hang on their every word) you are in trouble. Equally though, some people feel uncomfortable talking about themselves and being in the spotlight.  The best connection is through a shared conversation. Much like well matched tennis players , you "serve" perhaps with a question, and then they answer and may ask one back.  There are plenty of topics to cover without offending by asking something too personal or controversial.
Ensure you have checked in to the news that day. During your conversation it's likely that you will find some common ground and you may find a reason to get back in touch. It is worth having a statement (often referred to as an elevator pitch) worked out to say when the inevitable question of "what do you do" arises.
Exchange contact details – even though with LinkedIn, Facebook and Google it may be easy to look someone up afterwards if you want to get in touch, exchanging a business card is permission to do so.  Not only that, some people have their settings on LinkedIn that you need an email address in order to connect with them.  When following up a day or so later by sending a connect request, ensure that you alter the standard email request to mention that you enjoyed meeting them at the XYZ Networking function.
Be of service, keep in touch – people remember those who help and look out for them.  If the person you met is looking for someone or something that you happen to come across, send them a note.  Not only will this strengthen the connection, they will likely look out for you in return.  If not, think of them as "karmic credits" – they might come back around in another way to you. Best of luck with making new connections!