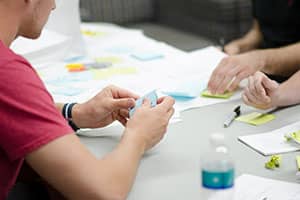 In-house Workshops
In addition to tailored and bespoke programs, popular in-house workshops include:
You and Your Career
You and Your Career – Introductory workshop or "Lunch & Learn". This workshop helps you to consider the concept of driving your own career – and what this means for you, as the world of work continues to change and evolve. We look at the important elements of your career – including realising your strengths and values, considering what energises you, the importance of connections and building a network, professional development and cultivating your personal resilience.You will come away with the beginnings of a career action plan, know how to identify and access support and learn some useful strategies and tools to bring your plans to life.
Realise and Own Your Strengths
Understanding your strengths is central to developing yourself and your career. This workshop helps you to discover your unique set of strengths as well as assisting you in identifying strengths in others. From there, you are able to take ownership of your strengths and find ways to build upon them in your work and life.
Career Confidence How to develop your personal confidence to grow in your career. We look at the behaviours and actions that help you to work with more confidence and resilience to reach your goals. Learn the "five C's" of confidence building and how to take steps towards growing your confidence.
Stop Networking, Start Connecting

Connections or relationships are vital in your career and in life.  It is easy to overlook this fact, especially when "networking" can seem uncomfortable or unnatural.  Like any skill, it can be learned. In this session we look at ways to connect with people at events and functions, in the workplace and on LinkedIn, so that you can build connections with greater confidence, and network like a natural. 


Career Coaching Skills for Managers

A manager performs many roles in supporting and developing their staff. One area that many staff want to engage in more is a discussion about their career development.  A performance development conversation is a great opportunity to explore career development with your staff, assisting them to consider and find ways of driving their own career. This workshop will delve into how to become a better "strengths spotter", and find ways to provide useful and regular feedback.

Questions such as: "How should I approach these career conversations? What coaching techniques are most useful? What should I avoid?" will also be discussed, with time for your own questions too.  You will take away some career coaching skills, an understanding of "career development" (beyond career progression) and gain some insights into your own career as well as how to support your staff in developing their careers.