Workshops and Events
There's nothing quite like a live event or workshop, where you get the energy of others to stimulate thought and discussion. Some people find that they learn best in this environment, so Career Wisdom aims to give you some high level and interactive content in this format for you to absorb, discuss and benefit from, either in online video format or in person events.
A sample of workshops is below. To be updated on new releases and dates please register your interest here: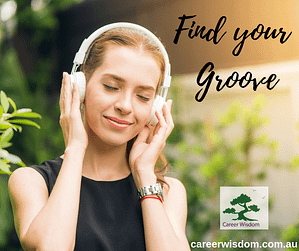 Are you ready to FIND your GROOVE….?
Ready to discover work and build a career that is really "you", that is energising and rewarding?
It's often really hard to find out what you want to do and the direction you want to head in. There are just so many choices, so much well-meaning (but sometimes misguided) advice and it can be completely overwhelming and confusing!
That's why founder of Career Wisdom Lois Keay-Smith is now offering "Find Your Groove". The Find your Groove program is a powerful yet cost effective small group online (via Zoom) workshop series.
FIND YOUR GROOVE Career Discovery Online Program is a four session online interactive facilitated program over Zoom (5 hours) and the investment is only $770, including assessment tools. It's fantastic value (working 1:1 with Lois via a Career Discovery package is $1597) and importantly, will give you greater clarity and get you heading in the right direction, faster. You'll stop going around in circles and know your next steps to take.
LinkedIn – for Career Developers and Work Seekers
Do you need to create or update your LinkedIn profile?
Feel like you need to "get your head around" LinkedIn? Fear not, help is at hand!
Find out how to work LinkedIn so that it works for you – both by improving your profile, being found and gaining more quality connections to develop your career. If you are currently job seeking (either passively, or actively), this knowledge can boost your LinkedIn presence, enhance your job prospects and help recruiters and employers to find you more easily. It also helps you develop your "LinkedIn-telligence" to get more from being on this platform.
It is recommended that you have already set up a basic profile before attending this session, which is designed for those looking to further career connections and/or gain new work opportunities, or currently job seeking.  This workshop is currently offered via a small interactive group via Zoom video, plus handouts / worksheets and materials accessed before the session.
Find out:
– About the importance of the LinkedIn Headline, headshot photo and banner
– What your profile summary should contain
– Should you put everything on LinkedIn – or be more selective?
– What is the LinkedIn etiquette? How do I choose which connections to accept?
– How much time should I spend on LinkedIn, when I'm job seeking? Where do I find opportunities?
– Posts and beyond. Introduction to publishing on LinkedIn to build your profile.
Please bring along your burning questions, for a fast paced Q&A session at the end and plenty of interaction throughout.
Your LinkedIn profile and presence is guaranteed to improve following the actions you take from this workshop – or your money back!